1
Development competencies to offer what is demanded
We are capable of developing original fabrics that meet the needs of clients by drawing on our know-how backed by a development and production track record of over 30 years, with environmentally-conscious features and functionalities blended in as well. Owing to the close coordination that we have with source yarn manufacturers, weaving houses and processing plants, our service excels in resourcefulness.
2
Material with moisture vapor permeability
User comfort in various environments, such as in the rain, is delivered by a wide range of filming and coating treatment. High-permeability model (GHB): PU-laminated to achieve 30,000 g to 40,000 g in permeability 7-micron model (G7H): Ultrathin PU membranes make it ultra-lightweight and highly-permeable (30,000 g to 40,000 g) High-porosity model (GMP): Made with hydrophobic porous PU membranes Coating (GC): Fabrics are coated directly with wet PU resin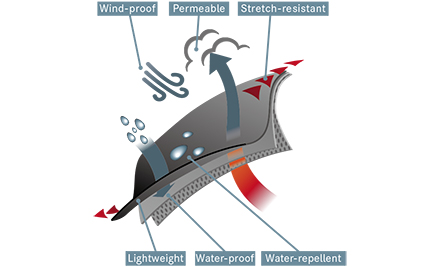 3
Lightweight material
Product offerings include lightweight, high-density down-proof polyester and nylon fabrics and lightweight wind-proof fabrics.