Materials development
Overview of Materials development
Our operations also extend to development and sales of unique materials. The strength of Toyota Tsusho Fashion Express is its know-how to create a material combining each manufacturer's technologies with "special blend."

GELANOTS is a high-tech material developed in 1993 by the textile trade division of Tomen (current Toyota Tsusho Corporation). In recent years, it has evolved beyond conventional functionalities such as high-water pressure resistance, high moisture permeability and high-water repellence, incorporating additional processes to meet the needs of the global market.
It has been adopted not only in Japan but also by major outdoor, golf and athletic wear brands in Europe and America, developing a reputation for unshakable reliability of its functionality.

Features of GELANOTS


High water pressure resistance and high moisture permeability
Through the addition of special coating and laminating backing to synthetic fiber surface materials such as GELANOTS nylon and polyester, we achieve a high degree of comfort with high moisture permeability while not allowing water to pass through to clothing.

Japanese quality
GELANOTS offers materials that are made in Japan, combining high technological capabilities, in collaboration with fiber processing plants in the Hokuriku region.

Sustainability
GELANOTS is actively formulating initiatives to facilitate sustainable growth for society, by developing and incorporating materials and processes which are more environmentally friendly, such as recycled nylon, recycled polyester and fluorine-free water repellent.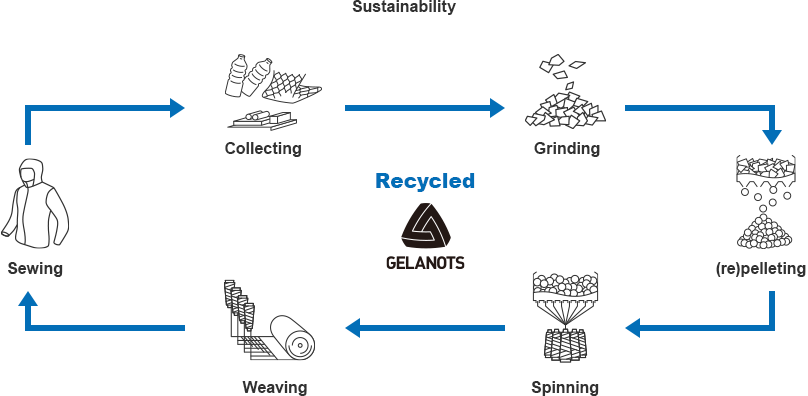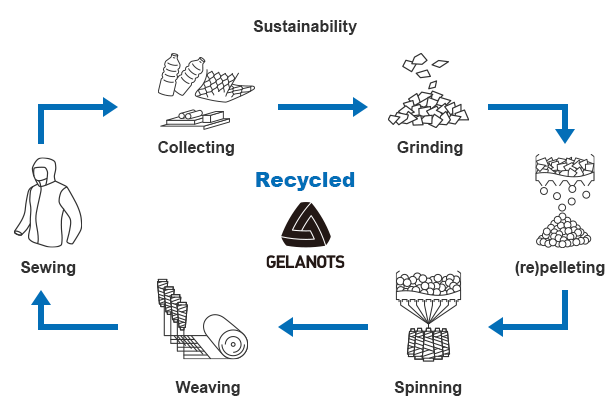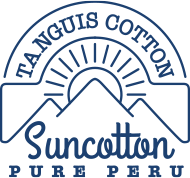 Suncotton was launched on the market in 2018, combining the total strength of Toyota Tsusho Group.
Since its debut, Suncotton's unique texture has been popular with consumers, and has been adopted by many fashion apparel companies.

Features of SUNCOTTON
Tangüis Cotton
Made using Tangüis cotton, only found in Peru, a major producer of cotton. Tangüis cotton has thicker fibers than other cotton varieties, and characteristically has significantly bigger crimp than conventional cotton materials, giving it more bounce and resilience. By producing threads which maximize this crimp, we implement the fabric that is light to wear with the distinctive texture of Tangüis cotton.
What is Tangüis cotton?
Fermín Tangüis was an agriculturalist in Peru who, in the early 20th century, experimented to successfully develop a variety of cotton that was resistant to a fungus plague which was rampant at the time. Its fibers were thicker than other varieties cultivated in Peru and required less water to grow. Now, this is the main variety of cotton grown in Peru.
Traceability
We ensure high traceability level with Toyota Tsusho Group's integrated service from harvesting of cotton through collection and shipping, to processing into yarn at the factory, and from knitting of fabric to sewing of products.